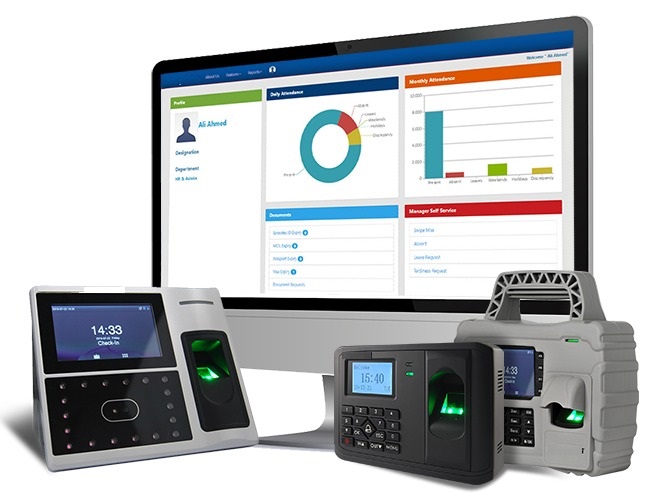 SIMBAPOS are specialists in the design, installation, commissioning, maintenance and integration of Time & Attendance systems in Kenya. These range from small single station clocking systems through to large corporate or manufacturing sector networked Time & Attendance systems in Kenya.
Time & Attendance systems in Kenya
These systems can be found in a wide variety of businesses and institutions in Kenya and globally. More and more businesses are reaping the benefits of moving away from traditional paper  based attendance systems and utilising electronic data recording.
Our Time Attendance Systems in Kenya use fingerprint recognition to ensure that the system is accurate and foolproof. This is ideal for small and medium size businesses such as Hotels, Restaurants, Bars, Supermarkets and all types of enterprises.

What are the benefits?
Integration with existing HR and Payroll systems:
This offers a real return on investment on your Time & Attendance system. Employee attendance information can be automatically exchanged between the new system and your existing software, removing the potential for errors and enhancing your operational procedures.
Simplified and centralised management:
Time & Attendance systems in Kenya effectively streamline your payroll, human resources and clocking systems, providing management with a simple to operate clocking tool.
Sub-contractor and construction site management:
A bespoke Time & Attendance system can enable a busy construction site to run efficiently with a clear record of who was on site and when, significantly reducing disputes between contractors.
Why SIMBAPOS?
SIMBAPOS  have significant experience in the installation, maintenance and fault detection of a variety of Time & Attendance systems. Our experience covers small basic single point systems as well as large integrated Time & Attendance systems in Kenya.
We know the value of a professional installation and attentive on-going maintenance to your intercom systems.
All installations begin with a site survey to discuss requirements and budget. Call us on 0700 001779 to have your site survey within 24 hours