January 27, 2023
Posted by:

simba001

Category:

Restaurant Management Insights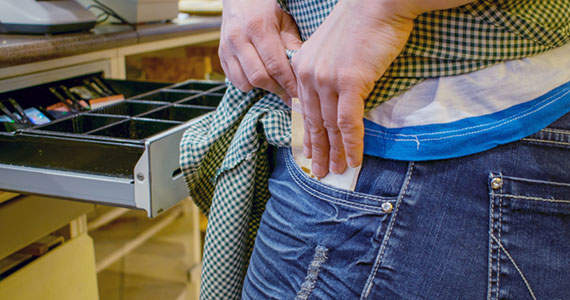 Owning a restaurant can be an incredible experience – serving delicious food and building a team that works hard to deliver an excellent guest experience. And often, this is the case. But what you don't see through this rose-colored lens is a very real threat to your business – employee theft. This is why it's crucial to brush up on your knowledge of restaurant loss prevention and put a strategy in place to protect your business.
Restaurant employee theft is more common than you may think. In fact, it accounts for 75% of all inventory shortages and 4% of sales, according to the Kenya Restaurant Owners Association. To make matters worse, about three-quarters of staff steal from their workplace on at least one occasion – a fact that's bound to leave a bad taste in your mouth.
What is Loss Prevention?
Let's start by answering a basic question: what is loss prevention?
Loss prevention refers to your restaurant's efforts to reduce any and all revenue losses. This includes taking simple steps, like ensuring you don't order too much produce and ending up with excessive food waste.
Reducing losses can also strike a more serious chord, including restaurant theft prevention tactics to combat dine-and-dash situations, credit card fraud, and employee theft in restaurants. Let's turn our attention to the last point.
Common Types of Restaurant Employee Theft
Unfortunately, theft occurs frequently in restaurants, and the saying "one bad apple spoils the barrel" rings true here. Research shows that the likelihood of one server stealing increases if a co-worker is stealing. And if a new hire sees a co-worker stealing within their first five months on the job, chances are they'll make it a habit, too.
With that in mind, here are some of the most common types of employee theft in restaurants to familiarize yourself with so you can spot them and stop them.
Short Ringing
Also known as under-ringing of sales, here's how short ringing typically plays out. A customer pays in cash at the bar for a Ksh 500 cocktail, but the bartender enters the order into your POS system as a Ksh 300 cocktail and pockets the other Ksh 200, leaving no paper trail of the theft. Talk about an unhappy hour.
Cash Register Skimming
Skimming cash from the register involves staff stealing cash from sales that aren't recorded in your restaurant's books. For example, a customer orders a piece of pie from your dessert counter and the server gives them the pie but doesn't ring it in, then keeps the cash instead of putting it in your register. In other brazen cases, skimming can also include stealing small amounts of cash outright from your register.
Complementing Too Many Orders
Giving guests complimentary food and drinks (comping) is standard practice in most restaurants. However, if this starts happening too often, you need to address it in your restaurant loss prevention strategy. You don't want your overly generous employees giving free appetizers to their friends every time they eat at your restaurant.
Voiding Sales After Closing
Don't let your guard down just because it's the end of the day – theft can and does occur after hours. For example, your supervisor on duty could sneakily void one item from several orders and pocket the total instead of including it in the nightly cash-out.