May 30, 2023
Posted by:

simba001

Category:

Business Insights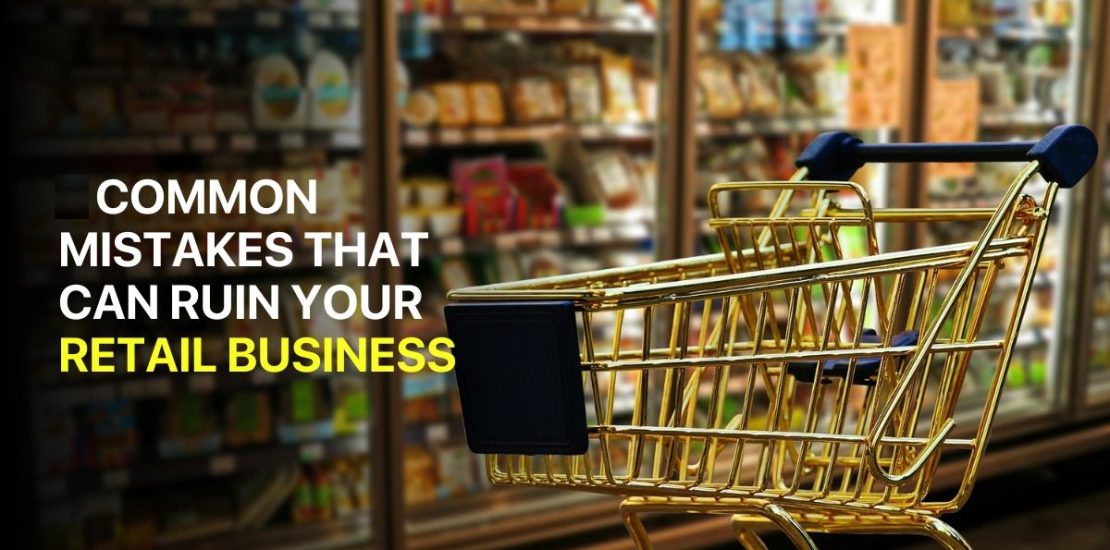 The retail business has always been competitive, but the last few years have been more challenging than ever. Customer's shopping habits have changed, and their expectations continue to increase. All the while, retail profit margins have been shrinking during this time.
The retail business has always been competitive, but the last few years have been more challenging than ever.
It has been reported that most retailers experienced a 30% drop in sales. Even though some of the retail stores are still struggling to recover, Covid-19 forced most of them to close, making the situation worse. As such, every retailer needs to be aware of the right strategies in order to be successful.
To do that, you need to make sure to avoid some common pitfalls that most in the industry succumb to. In this blog, we will discuss the frequent retail mistakes to avoid in order to promote sales.
Doing everything manually
Running a retail business is not a walk in the park. It requires a lot of planning and execution in detail. Prior to the development of computers, retailers used calculators or cash registers to ring up sales. Some actually still use manual processes to record stocks and sales. It's abundantly clear that manual operations are prone to mistakes and increase tenfold the probability of a business failing.
This is why you need to have a good POS System to help you Manage and Control your retail business. A POS System enables you to easily and accurately record sales, capture sales and get comprehensive reports on all aspects of the business performance.
This saves your time and resources and boosts sales.
Over/under-pricing products
Mismanagement of product pricing has encouraged shoppers to demand products at prices that stores simply cannot afford. This includes beginning seasonal shopping early and providing discounts by deducting an excessive amount from the price of the item. Fortunately, when using a Retail POS System in Kenya, retailers can avoid making pricing errors.
When a shopper visits a retail store, all the products on the store shelves are placed in such a way as to influence customer behavior, attention and movement in the store. Thus, whatever is displayed on the shelf will sell within a short span of time. This makes it possible for retailers of every size to entice customers, understand their buying behavior, and maximize their profits on every sale.
Not following marketing trends – being too niche:
When opening a retail store, most retailers stock the store with niche goods that they love. This approach will lead the store to target a segment of the market which is very narrow. This will cause you to not have enough customers in your store.
For example, if you are a sports goods retailer that only sells tennis rackets, which may be too niche for your market segment, will there be enough tennis players to keep a racket store afloat? Probably not. To entice people, your shop would need to sell other sports items and draw people who do not only play tennis. This means placing balls, bats or shoes for other target athletes.
Remember, make sure to stand out from the competition. Make sure your store has a great collection of sports stuff. Using retail data with the help of a POS System can help you understand the demographics and purchasing habits of customers.
Poor in-store inventory management
As a retailer, your store's shelf space allocations for each item will help you improve category performance. Excess stock or out of stock are the two consequences of poor inventory management. Which can potentially cost retailers millions of shillings every year.
If you have excess stock, try to avoid it becoming dead stock. Point of Sale (POS) Systems can be helpful in proper assortment planning by guiding retailers in purchasing the right amount of stock for the retail store.
Even when it becomes excess inventory, cross-merchandising them with other best-selling products can make shoppers purchase. When you have something out of stock, it can disappoint your customers, resulting in a reduction in overall sales.
The solution is to ensure days of supply analysis to understand the number of days a product is expected to last before it is restocked. This allows retailers to reduce out of stock and prevent shoppers from visiting other stores.
Ignoring the importance of store layout
If your customer ever walked into a store to purchase a few items and walked out with more than they intended, then most of their buying decisions were probably influenced by the store layout design.
You need to design store layouts to create first impressions on your customers. Your store's window displays should be compelling to shoppers and tell a story. For example, if it is Back-to-School season, then you could display items about kids preparing to head back to school.
Never miss an opportunity to create a strong impression about what a shopper can find inside your store. Most customers walk to the right when they enter a store. Stores can capitalize on this natural tendency while designing the store layout, so that it can direct shoppers to the right.
Placing end cap displays or sidekick displays in a store can get the attention of the shoppers as they browse the aisle. This can be used to encourage impulse buying, showcasing products and increase sales.
At SimbaPOS, our mission is to empower businesses for GROWTH by providing Affordable, Reliable and Easy to Use Point of Sale Systems. Contact us today on 0700 001779 for demo/installation  or send Email