July 3, 2021
Posted by:

simba001

Category:

Reatil POS Insights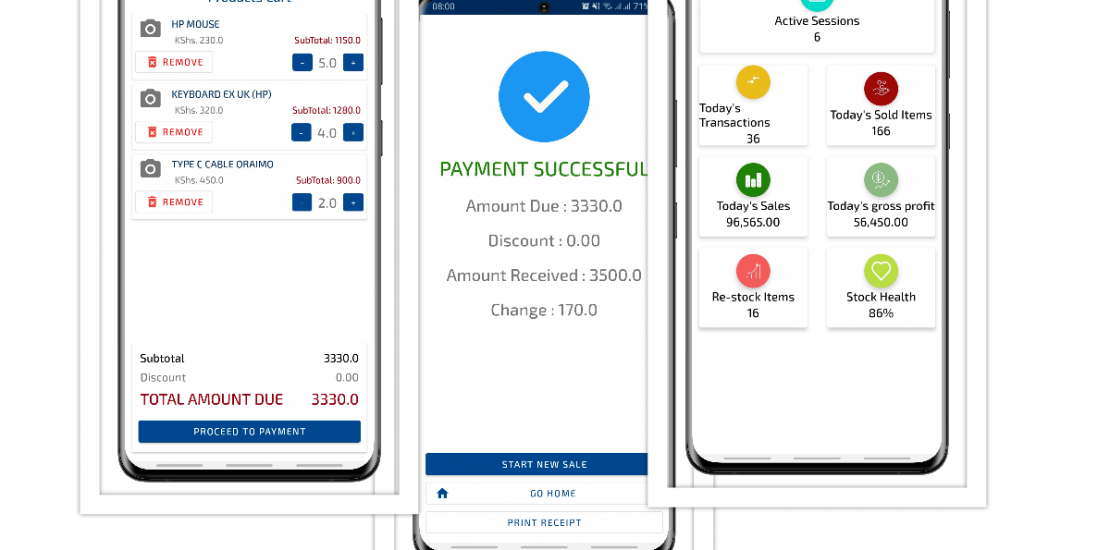 The technology world is evolving quickly and there has been a growing popularity of  Mobile Point of Sale (POS ) System in Kenya. With the advent of smartphones and dedicated POS tablets/POS Phones running on Android and iPhones, a number of tech savvy business owners are shifting to mobile POS systems. Unlike having just a Mobile Reports App, the Mobile POS is fully fledged and capable of providing all functionalities.
One of the benefits of a Mobile Point of Sale (POS ) System in Kenya  is that it is Affordable. With as low as  500 shillings per month, you can get a Mobile POS system that does the essential functionalities like Sales, Stocks and basic Reports. This is unlike the traditional POS systems that require a lot of money upfront for the software and the hardware.
The other benefit of Mobile Point of Sale (POS ) System in Kenya is that they are Online and Accessible 24/7. Basically, you don't have to go to a physical business location like a shop in order to access your POS. You are able to work from anywhere, anytime as long as you have internet access.
Mobility is also a great benefit of having a Mobile Point of Sale (POS ) System in Kenya. For people with Distribution business, the Mobile POS can be used by the Field Sales Team and the head office is updated in realtime. No more waiting for the sales team to arrive from the filed in order to post and reconcile the day's sales.
With a Mobile POS system, you don't have to worry about losing data even if your device is lost or spoilt. All the data is hosted safely in the cloud and you can access using any Smartphone or computer at any time. The Security of your business information is guaranteed as well as the ability to get regular system updates. Suffice to say, the Mobile POS Systems can easily integrate with other Cloud Software, Ecommerce Websites, Payment Gateways and other Systems easily.
Interested in trying out a Mobile Point of Sale  in Kenya? Check out PawaPOS today for a free trial and onboarding.