April 29, 2023
Posted by:

simba001

Categories:

Benefits of POS, POS Software in Kenya, Restaurant Management Insights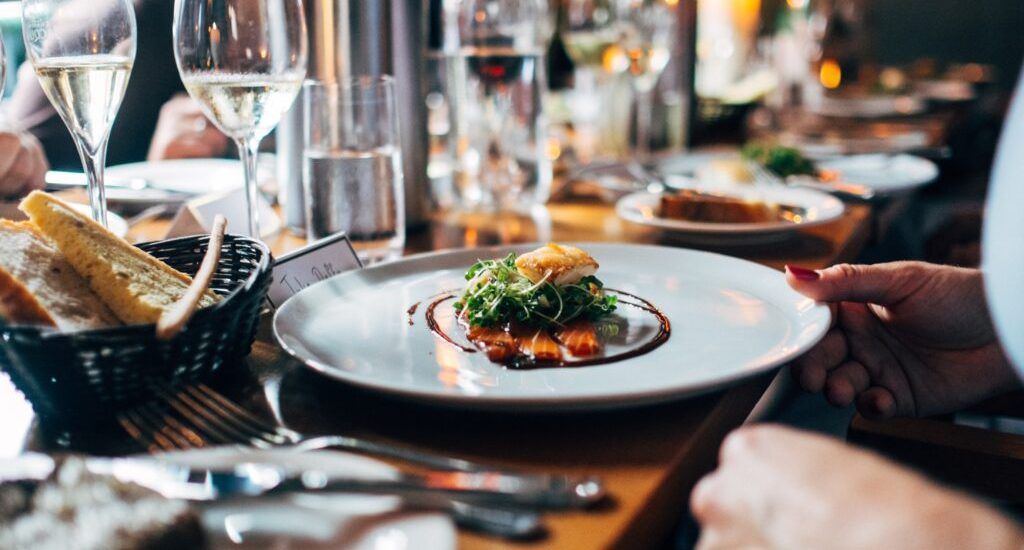 It can be difficult sometimes  to attract new Customers to Your Restaurant in Kenya. Serving amazing food or offering cheap meal prices doesn't always cut it. There are several external factors that influence the number of customers your restaurant serves such as seasons, weather, location, customers' demand, competitors' prices, etc. It's challenging to keep up with these factors – and think about your budget while doing so.
The food industry has an annual growth of 3.1%, causing the competition to be fierce. This means that all businesses have to differentiate themselves from one another. Our mission at SimbaPOS is to provide restaurants with the means to run a smooth business with the focus on creating value for their customers. Therefore, we propose a few ideas for restaurants to differentiate themselves in order to attract more guests.
Here are 5 ways to attract more Customers to Your Restaurant in Kenya

1. Always keep the interior and exterior of your restaurant in mind
Align your interior and exterior design with the story behind your recipes. Your restaurant's design plays a crucial role in your customers' perception. Every detail inside and outside should be meaningful and well-thought. If you choose the right design for the restaurant, your customers can easily feel like they want to return, turning them into loyal customers. Of course, it's not just the design of the place, it's also marketing, brand, etc, but the design is a good step, to begin with.
Let's start with your restaurant's exterior; the first aspect your potential customers notice. One of the reasons it's so important to showcase your restaurant's ''personality'' is that first impressions matter. The restaurant doesn't even have to be located in a central area, or in a place with a lot of traffic if the exterior catches the eye to attract Customers to Your Restaurant in Kenya. Don't exaggerate but try to stand out by emphasizing aesthetically your core brand values. People will notice it, will become aware of it, and later on, the desire to try it out will arise. Use your brand's color palette, a few appealing visuals, some extravagant plants, play with lights, and maybe even music. If you have an outside eating area, even better. Add a few tables and comfortable chairs, maybe some heating lamps, and create an unforgettable experience for your guests. And voila…you now have a fantastic exterior that catches the eye by displaying a few of the values your brand stands for.
Restaurant interior
Moving on to the interior, pay attention to your brand's color palette. It may seem like a less significant detail but colors influence customers' behavior and can have an impact on your brand's association. Furthermore, choose the design style that is best aligned with what you want to transmit through your food. Don't be afraid to paint your walls, use stickers, paintings, etc. If you think you need some help with the process, hire an interior designer or a graphic designer for customized visuals and logos. Don't forget details such as flooring, seating, lighting, and other decorative objects. Invest in service ware, since the way you serve your food is everything. Your food can end up on Social Media, bringing more exposure than ever! But the most important aspect is the atmosphere you create and how it affects customers' mood.
2. Emphasize your brand logo
Your logo is the foundation of your brand identity. Make sure you create it in a way that stands the test of time – and remember first impressions matter. It should be bold, grab attention, it should make an impact, and it shouldn't have too many details because it can easily end up looking messy and confusing rather than memorable. Your logo has to be unique, distinguishing you from your competitors. It doesn't only encourage brand loyalty by causing customers to perceive you as a trustworthy brand, it's also something that the audience expects from a company nowadays.
Place the logo outside your restaurant, display it inside, use it on social platforms, in emails, on the menu card, etc. This way, whenever your customers see the logo, they associate it with the amazing taste of your dishes.
3. Offer customer incentives
Promotions are an effective way to attract more guests to your restaurant. They can be useful on certain days when your restaurant doesn't have as many customers as usual. These incentives aren't only about increasing your revenue, they are about offering a good deal to your customers or potential customers in order to create a meaningful bond.
There are many ways in which promotions can be used and the purpose behind them is to create loyalty, buzz, and bring extra revenue. There are several types of incentives for different circumstances, such as special occasion discounts for holidays or events (Valentine's Day, National Day, birthdays, etc), offers like 'buy one get one for free', offer for drinks on game nights, or weekends, happy hour(s) for boosting your sales during the slowest time of the day and turning your customers into regulars.
Therefore, offering incentives will make your customers spend more and come back, and together with exceptional customer service and delicious dishes will lead to a long-lasting relationship between them and your brand. Further, discounts and offers also attract more guests.
4. Customer satisfaction
Reviews are the most important way to attract more guests and through reviews, customers show their level of satisfaction concerning food and service. People tend to trust reviews and put a lot of thought into considering going to new restaurants without any recommendations. The more positive reviews your restaurant has, the more likely it is that you will attract new customers and inspire trust and credibility.
Encouraging customers to interact with the company, digitally or physically, ultimately leads to improved profits. But, sometimes, you can also encounter negative reviews. Studies show that it's more likely for guests to leave a review after they had a negative experience. The way you deal with those should be in completely calm and polite manner since they may impact your clientele significantly. Try your best to solve the problems described in the negative reviews, thank your customers for sharing their opinion, and let them know you are working on it because your customers are your priority.
Customer satisfaction is measured in multiple ways, through surveys, questionnaires, reviews, starts, smiley faces, etc. No matter the platform, always add feedback forms and push your guests to write reviews on your Facebook or Google pages. This is a great way to advertise your brand and you can even showcase a few reviews on the restaurant's website or inside of the restaurant.
5. Marketing is the answer
No matter if you're new to this business or have had a restaurant before, delicious food is not enough to attract new Customers to Your Restaurant in Kenya. That's where online and offline marketing intervenes. Choose your marketing strategies according to your budget, set some marketing goals for certain time periods, and do your best to reach them. Although implementing some of these strategies may seem pricey, don't worry about investing in them because the outcome will be significant.
For your online strategy, focus on earned marketing, to begin with. Take beautiful pictures of your food, share them on Social Media, and add some to your website. This engages the audience and encourages them to use your services. A nice background, within your restaurant, and some gorgeous service ware will also help. Always create and share quality content frequently. Don't be afraid to get personal, arrange competitions/giveaways to engage more with your current customers and attract potential ones, and be up to date with events or holidays. Write blog posts on your website and share them on your social platforms. Optimize your website for local searches for ranking better on search engines and use email marketing. Send emails occasionally to announce events, discounts, competitions – give people incentives like 10% discount if they share the email with 5 of their closest friends to attract new customers, etc. Show your customers that you care about them by sending them emails for their birthday including discount codes for takeaway or for your webshop system. But be careful, too many emails can make people feel spammed, so don't exaggerate.
Hopefully, we were able to inspire you with some useful ideas that you will take into consideration in order to attract more Customers to Your Restaurant in Kenya. We know you love what you do, and it shows through the food you serve. With these ideas, we are just guiding you in letting your guests in on the passion, uniqueness, and skills behind the restaurant.
Contact us
If you feel like the administrative tasks take too long, that you are too busy to handle the Social Media accounts, or that your restaurant uses too many platforms for the operations, making the workflow more problematic, try SimbaPOS. We offer an amazing restaurant that will help you to easily manage and control your business. For more information, feel free to contact us anytime on 0700!